---
Future of Ecommerce: 7 Main Trends to Expect in 2020
The future of ecommerce is being shaped by the latest technologies and increasing customer expectations. The latter means that buyers want to get an immersive shopping experience without leaving their homes. And digital technologies allow them to do just that.
The idea of making purchases from the comfort of one's home has been evolving for many years. It all started from the first Sears Catalog issued in 1888 and has gone the long way to the modern web-stores that use VR and AI technologies. So, today's digital shops are bringing to life the same concept of ultra-comfortable shopping but in a much fancier way than the classic printed brochures. In ecommerce stores, people do not just buy — they also have fun and get bright emotions. So, it's no surprise that consumer spending keeps constantly growing.
The latter is proven by stats. According to DigitalCommerce, global ecommerce sales are expected to hit $3.9 trillion in 2020 — which is up 33% from 2018's sum of 2.93 trillion. And by 2022, online stores are going to sell $892 billion worth of products in the U.S. only. The industry is growing — and so does the competition. Whatever it is a retailer sells online, there is a bunch of contenders offering the same product or service. Therefore, it's no wonder that the future of electronic trading is defined by the tools that help brands stand out and increase ecommerce conversion rate.
To help retailers keep abreast of the dynamic changes in the industry, we decided to write about 7 main ecommerce trends in 2020. So, join us and find out what will help you build a winning strategy in the year that's started!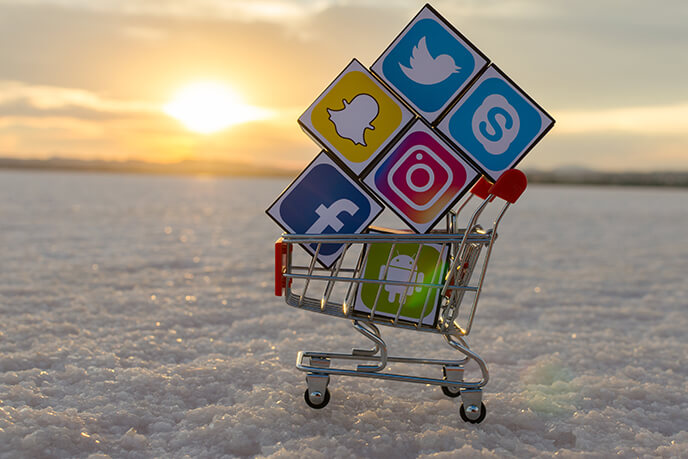 ---
The future of ecommerce is connected tightly with SMM. The latter opens wide horizons for brands in terms of reaching out to their audience and selling goods. As Divante informs, an average user spends 142 minutes on social media networks each day. The same source reports that in 2019, those companies that invested in social commerce got 13% of ROI. Which is the highest rate among all kinds of investments that were made last year! In the U.S. alone, this figure is even higher — 18%. How to explain this success? The secret is that SM platforms make the purchasing process super convenient and fast for their users.
So, how does it work? Businesses add embedded links to posts on their social media pages. Then, when potential clients see a post advertising an item on a brand's SM profile and click on the link, they are redirected to a product page. Where they're just one step away from purchasing the item. 
However, to capture prospects' attention, posts on social media platforms should include high-quality catchy imagery. Oftentimes, companies struggle to get enough of such visuals through the means of photography — because organizing a product photo session is costly and time-consuming. In this case, they can opt for 3D rendering — a fast and reasonably priced alternative to photography. CGI will help get plenty of beautiful photorealistic images that will catch the audience's attention on social media and lead them to the brand's website.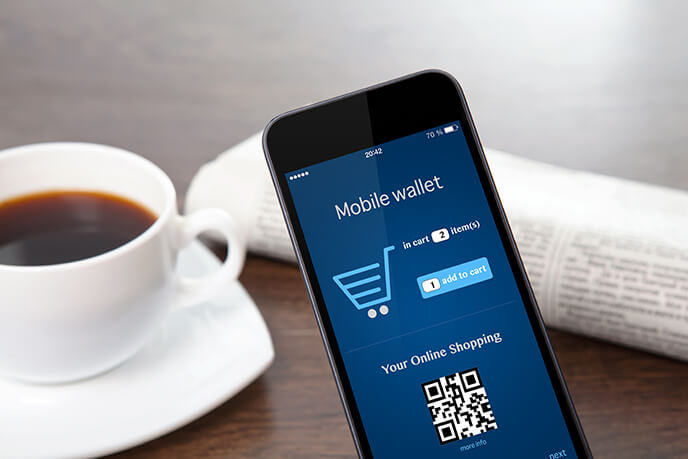 ---
Speaking of Internet shopping, it's crucial to mention mobile payments. Beyond any doubt, they'll be an integral part of the future of ecommerce. The reason is that mobile wallets became the solution to the problem of a low rate of sales through smartphones. Previously, buyers found it annoying to go through the complicated checkout process on their gadgets. But with the rise of mobile wallets, such as Apple Pay, Android Pay, etc, this obstacle has been removed. The number of online retail payments made through such wallets has increased by 1.5 times since 2016, according to Divante report on ecommerce trends. 
Statistics in this research also show that Asian customers are more easily adaptable to such payment systems than people of the western countries. For example, in Asian states, about 40% of internet shoppers already pay through their smartphone wallets, and it's becoming a common thing. However, in the U.S. the figure is lower — only 28%, and in Europe — 26% on average. It means that mobile payment systems are not being used at their full capacity yet. Therefore, this trend has great potential and is only beginning to yield results.
#3. AR and VR technologies
---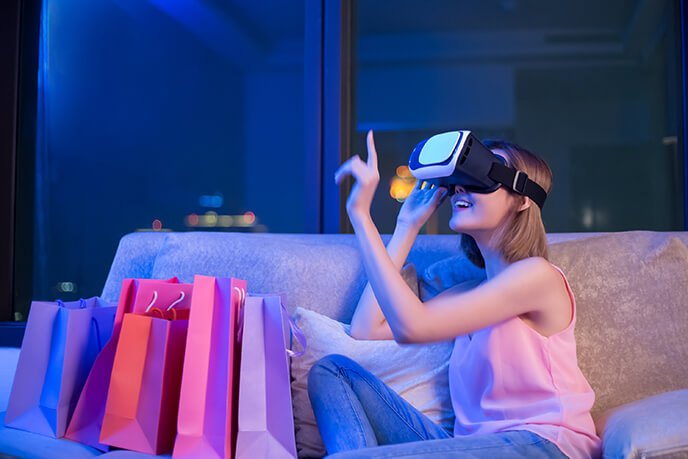 ---
Today, it's impossible to imagine the future of ecommerce without virtual and augmented reality technologies. They help eliminate the main disadvantage of online shopping. Which is the inability to interact directly with an item — touch it, hold in hands, or try it on. All these things seemed to be possible only in physical stores. 
But now, with AR and VR shopping, this gap is successfully filled. For example, if customers put VR-glasses on, they can try on realistic digital models of clothes in a virtual showroom. As for AR, it brings the amazing opportunity of visualizing realistic 3D models of products right in the places where the potential buyers would use them. For instance, with AR, it is possible to see if a new TV will fit the interior of the buyer's living room. A person can do it by projecting the 3D visualization of a TV onto real space using a smartphone. All one needs to do to start enjoying digital shopping is to download a VR or AR app.
---
#4. Personalization and customization
---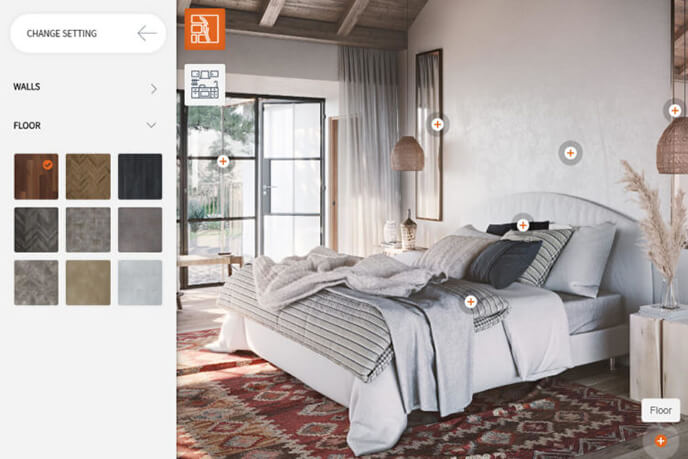 ---
The individual approach is in the customers' favor today. That is why the future of ecommerce industry implies personalization of offered goods, their promotion, and buying process. It rises customers' satisfaction and helps them create emotional ties with a brand. Which results in increased revenue for retailers.
There are different approaches to creating a personalized experience for a shopper. These can be segmenting e-mail offers and newsletters, suggesting goods corresponding to a client's tastes, showing if there is a needed size of an item in stock based on previous client's choices, and more. 
And when taken a step further, personalization can exceed even the most demanding buyers'  expectations. If they can buy something unique, tailored especially for them or even by themselves, they are bound to be impressed. It's possible with 3D configurators — apps allowing web-store visitors alternate an item's features to create a unique design. 
---
#5. AI-powered recommendations and apps
---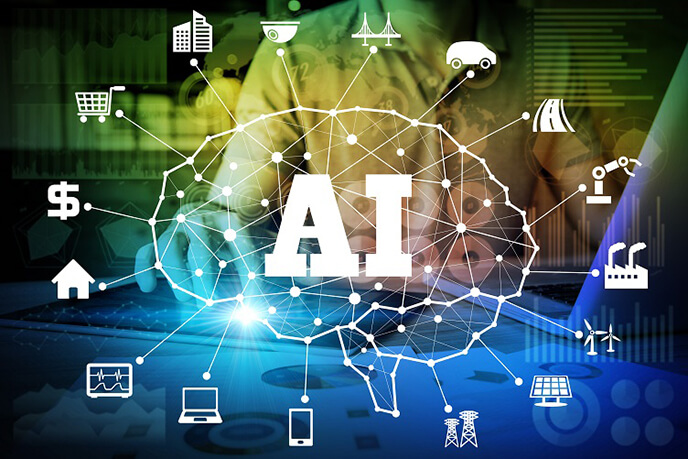 ---
The future of ecommerce will be undoubtedly driven by the usage of Artificial intelligence. It's has been a game-changer in the industry. AI is a vital part of almost all key components of digital commerce: recommendation engines, visual search, data collection. Personalization is impossible without AI. Artificial intelligence tools gather information about web-store visitors to adjusts its pages to a person's needs and give personalized suggestions. 
Visual search is another great benefit of AI. With an AI-powered app, people can search on the internet for goods that they randomly see around on the streets or social media. And there's no need to even know a product's brand or name. It's enough to take a picture of an item or come across it on a networking platform. A user simply downloads the image to the application, and it shows a list of online shops that sell this merchandise.
---
Video has become and will remain the leading advertising format. 54% of buyers want to see more of such content from companies, according to Oberlo. Therefore, it's totally impossible to imagine the future of ecommerce and online business without the power of video. The latter can be used in countless ways. 
Apart from the footage that presents a product itself, manufacturers can make use of video in many other ways. For example, brands can live stream from various events — trade shows, conferences, etc, or record videos that show behind the scenes of a company's workflow. Such materials can be used to engage and build trust with people on social networks. Or, manufacturers can interview their clients to make video testimonials that will help sway the potential customers` purchasing decisions. 
Another great option is to use digital videos — 3D animations. They allow clients to get familiar with a product even before its launch! To get a 3D animation, marketers just need to send drawings or sketches of an item to a CGI studio. Then, professional 3D artists will create a photoreal CG video showing a future item's look, features, and functions.
---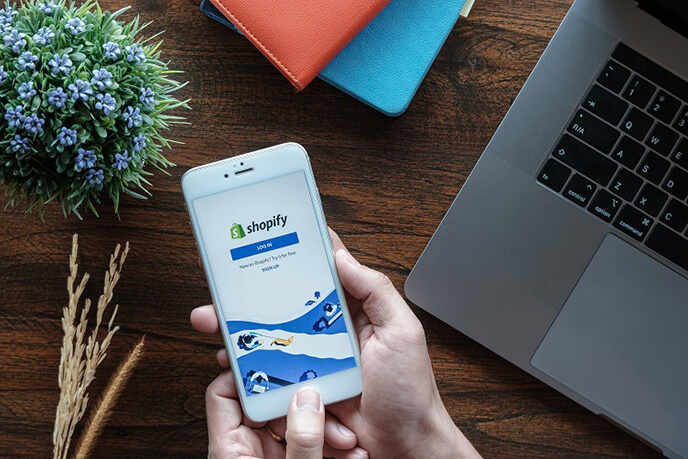 ---
It's impossible to explain the future of ecommerce without touching a slightly controversial topic: global marketplaces. While some famous companies are rethinking their partnership with Amazon, like Nike that broke up its association with the tech giant last year, for many brands it's still the perfect way to reach out to their audience. So, it's no doubt that global marketplaces like Amazon, Alibaba, and Aliexpress will stay leaders in the ecommerce industry. And they deserve it, since they pioneer digital innovations, offer a super-wide wide variety of goods, are world-known and trusted by consumers. 
The future of ecommerce will be technologically driven and aimed at higher customer satisfaction. A great number of purchases will be made through social media and paid for with mobile wallets. Ecommerce stores offering AR and VR shopping experience will keep replacing brick-and-mortar stores, personalization will remain one of the primary tools to build a connection with clients, and AI will help use it. Video content will be preferred over still pictures and text, and people will continue buying goods at trusted global online marketplaces.
Want to quickly get perfect photorealistic imagery for your online business or 3D models for AR and VR applications? Contact our company for 3D modeling and rendering services and apply the newest ecommerce trends with success!
---
Let us know if you've got an interesting project and want to work together!