---
PROFESSIONAL 3D MODELING SERVICE: 5 REASONS IT'S A KEY TO JEWELRY MARKET SUCCESS IN 2019-2020
Professional 3D modeling service can become a solution to the challenges that jewelry sellers are facing in 2019-2020. And they are many. To begin with, customers tend to buy jewels offline: they don't get a full view of the item and therefore fear trusting photos in the Internet shops. As a result, web stores trade less than they could. 
With that, preparing pictures for the site is expensive and time-consuming. First, a firm has to make a prototype, for example a golden ring with diamonds, which already takes a ton of time and money. After it's done, they have to organize a professional photoshoot, and it, clearly, should be paid, too. 
Moreover, millennials, who make up one third of modern online purchasers according to Verto, prefer spend money on devices and clothing. How does one show them the appeal of fine jewels that can bring them so much pleasure and add style to any outfit?
There's a means to meet these challenges and succeed in 2019-2020. The solution can be found in professional 3D modeling service. 3D models of products are the key to boosting sales, improving customer experience and optimizing the workflow, and many more. Let's see how it is possible!
#1. 3D Modeling shows jewelry in 360 view
---
---
People still prefer buying jewels in traditional stores. For example, according to Webretailer, only 18% of diamond jewelry is purchased online. The number is low, because this type of shopping doesn't allow clients to do what they are used to doing in showrooms. They want to hold a bracelet or a ring in their hands, try it on, and look at it closely. Otherwise, they don't get a full understanding of the piece and hesitate, for it's expensive. 
But it's possible to provide clients with this kind of experience in the web store as well. Using professional 3D modeling service, designers and traders can get interactive realistic 3D models of needed items. This is called product image rendering, and it lets the site visitors check the article from all sides, just like in a regular showroom. Or, 3D artists may even create an animation, which is a short video that demonstrates the product design at its best. This will dispel any client's doubts about the purchase.
#2. 3D Modeling allows testing and pre-selling new designs
---
Jewelry market is going to develop and expand over next few years. Several new types of design will appear. For instance, man's jewels niche is expected to grow. Besides, a lot of eclectic pieces will be introduced into the marketplace — they will combine features of various cultures, like Brazilian, Greek etc.
Therefore, brands will need to create new designs and present them to their auditory. They will have to make every piece and take professional pictures or a video of it. With that, it's quite risky because not every product will succeed in the market. This involves huge material and money expenses on production and photoshooting.
But not when the brand chooses to draw on the professional 3D modeling service. With its technologies, manufacturers don't need to create a real model for every project to test its market success. It only takes sending sketches and information about the materials to 3D studio designers, and they'll make professional photorealistic visuals of the pieces that the brand may display on their site. Clients will choose what they like from the renders, order it, and only then the manufacturer will have to make real earrings, necklaces etc. It means saving a lot of money on metals and gems, and spending less efforts on the organisation. 3D modeling services price will be lower than the final sum if the company goes the classic way.
#3. 3D Modeling services optimize jewelry customization
---
A lot of people want special jewels, which nobody else has, and which remind them of personal experiences. That's why custom manufacturing is always timely. According to Econsultancy report, 36% of consumers are interested in personalised products or services, and some 48% even say they'd wait longer for them if needed. Moreover, according to Bluleadz research, people are ready to pay about 20 percent more for a personalized product. 
Traditionally, to order a customized item, a person sends sketches, drawings, and visual references, which are pictures of similar articles, to the master. Also, one would specify wanted materials.
However, this method doesn't guarantee that the final design will be the same to what the customer imagined. Sketches and drawings are inexact. And references frame the overall mood, but they are different things all in all.
As a result, when time, expensive metals and gems are spent, it may occur that the final result was supposed to be different in the buyer's mind. This affects the brand's reputation and customer experience.
Yet this won't happen with realistic 3d product modeling. Being given drawings and materials description, 3D artists will create a photorealistic digital model for anything – pendant, or bracelet etc. The Jeweler shows it to the buyer who says if something is needed to be changed. Then, the 3D Artist adjusts the results to the corrections. This procedure may be repeated till the perfect design is reached. Therefore, the brand and the client will find common ground through 3D models. So that the buyer gets what he needs.
#4. 3D Models can be used for 3D printing
---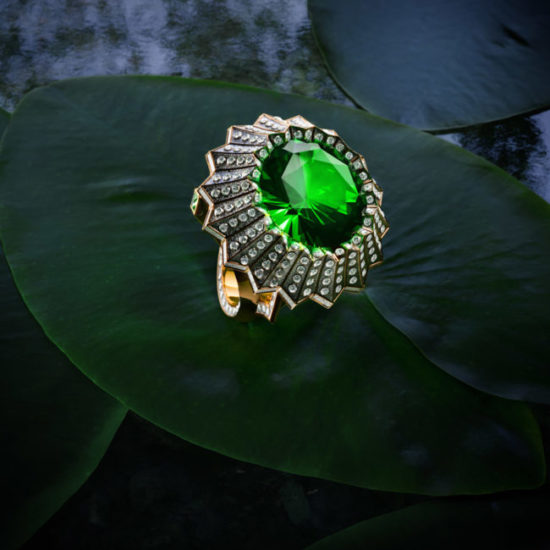 Jewels made with 3D printers are a new trend, which is getting more and more popular in the market. Business Wire says that the 3D printed jewelry market will grow by over than 26% in next three years. 3D printers can make plastic and wax samples, and also resin molds that are then used for jewelry casting. Sometimes, 3D printer is even used to make items directly.
3D printing always starts with professional 3D modeling service, which consist in making a virtual 3D sample with special software. To get this pattern, one should contact a CGI firm, send the illustrations, and the 3D Artists will make a precise and detailed model that can be used then for 3D printing. 
This kind of service has its numerous advantages: it's highly detailed, accurate, and quick. And there's no need to "refine" the eventual work, for it already looks like it was supposed to. It saves time and makes work more effective.
#5. 3D Modeling helps attract millennials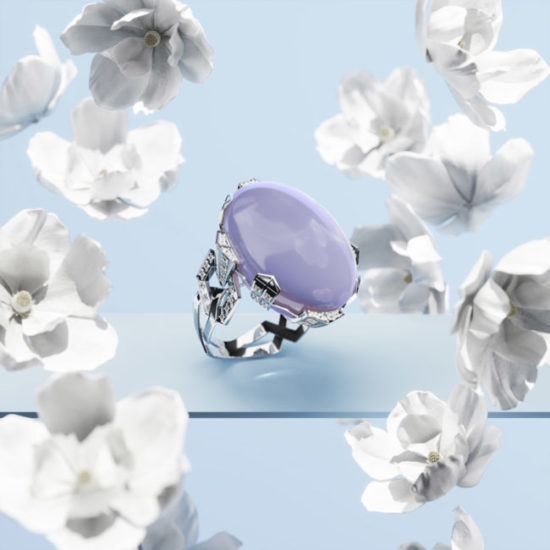 Millennials are not into jewels much. Which makes them different from the previous generation, the baby boomers, who considered such accessories a status and prosperity symbol. Today's youth prefers spending money on gadgets, clothes, and travels.
But millennials are still a massive customers segment — according to Deloitte, they make 30% of the US population. And their spending power is non-negligible — Accenture reports that they account for 30% of total retail sales. Therefore, businesses have to figure out how to attract them. With this purpose accessories from precious metals and gems have to be repositioned: from status symbol, like it was for baby boomers, to means of self expression. 
To make this idea come true, one has to launch a campaign and be present where this young generation spends time — on social networks, and sell the product or service in a bold unusual format for them to associate these goods with bright offbeat impressions.
But here's the problem. Social networks content need to be regularly updated, which requires making a lot of engaging visuals. Making high-quality professional visual content is quite expensive and resource-consuming. Where does one get enough pictures for every activity?
Meanwhile, with professional 3D modeling service it's not a problem. There won't be a need to constantly take new snapshots. Once a 3D model is ready, a professional 3D modeling company can insert it into all kinds of backgrounds, whether it be nature, or clothing, or interior etc. Any concept is possible! And the brand can get as much content as they want for a reasonable price.
3D modeling and rendering services are essential for jewelry businesses in 2019-2020 for several reasons. 3D visualization demonstrates goods from all angles and allows to examine whether products are demanded even before they are made. It lets create a piece 100% identical to what the buyer needs, constantly get marketing visuals that appeal to millennials, who are one third of the market audience. In addition, 3D modeling is a must for implementing 3D printing — a technology that is revolutionizing manufacturing and retail.
Want to get engaging 3D models and renders to successfully sell online? Contact our 3D modeling and rendering company, and we'll create visuals that will make your clients fall for your products at the first sight.
Let us know if you've got an interesting project and want to work together!