---
3D MODEL SELLING WEBSITES: TOP 5 PLACES TO DOWNLOAD 3D MODELS
3D model selling websites are perfect for when Marketers and Furniture Designers need one or multiple background models for a photorealistic rendering. They can provide cost-saving and fast modeling solutions in a wide range of categories. Whether one needs low poly or high poly, photorealistic or conceptual 3D models, chances are they will find it on such a website.
Unfortunately, quality, selection, and prices can vary significantly from one website to another. It could be tough to identify what a website offers or if there is a better choice for the model a user is looking at. Is there a cheaper alternative? Are there more options for this type of model? And more importantly, how can these points be found and identified? As a solution, we bring up this list of 3D model selling websites to turn to. Keep reading to know what each one can do for Marketers and Furniture Designers and what is unique about these online platforms.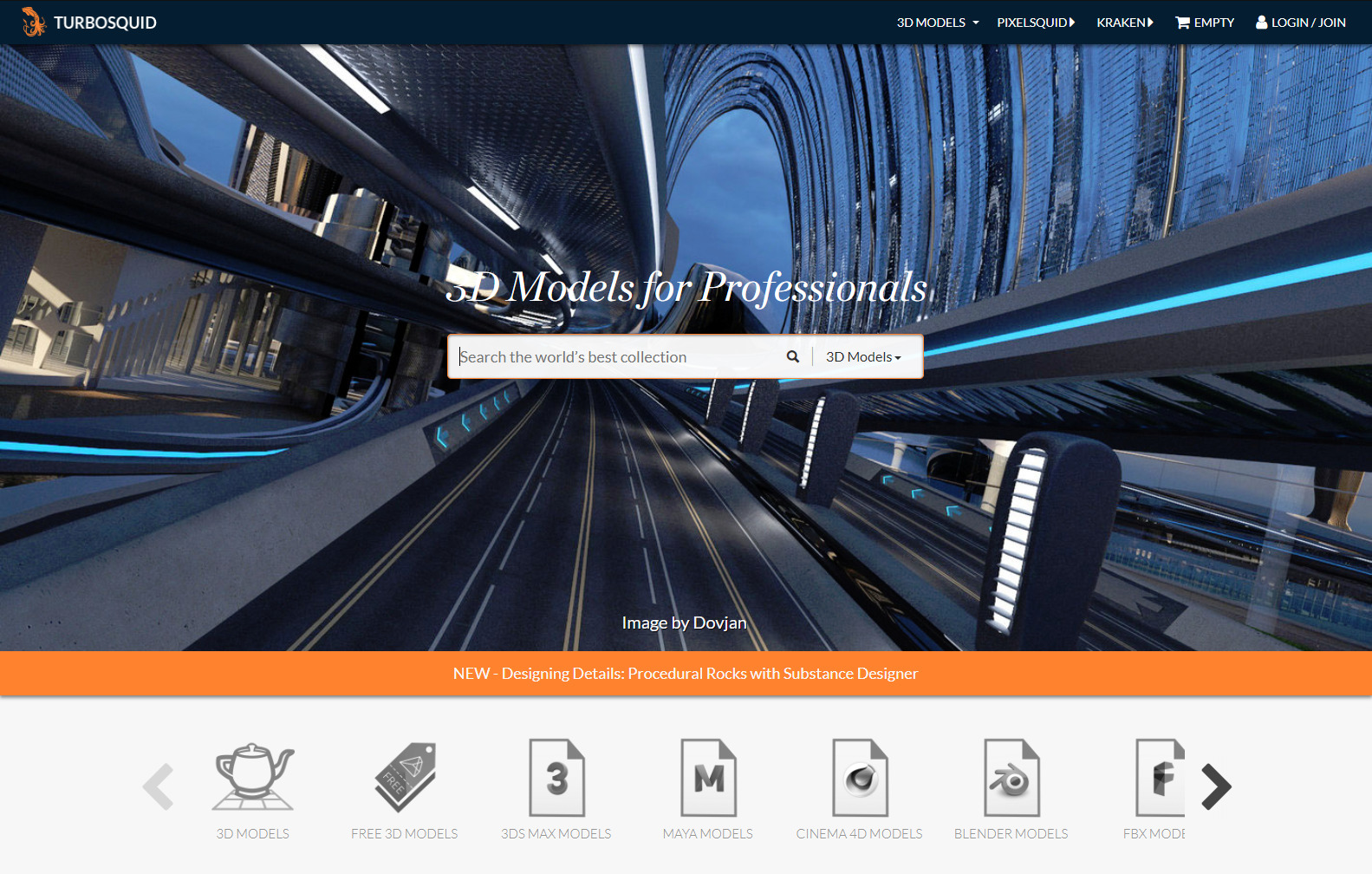 ---
Website link – www.turbosquid.com
TurboSquid was founded by Matt Wisdom and Andy Wisdom in 2000. It is one of the oldest 3D model selling websites and carries a collection of over 670 000 models as of 2018. This assortment includes high poly, low poly, rigged, and pre-animated models. There are also over 130 000 other items like texture maps and different material samples available on the marketplace.
The website has an accurate search system. Everything is tagged accordingly to its type, so it is easy to find. All the necessary categories can be used to sort the results: price, quality, file format, and so forth. When users look into individual models, they are greeted with images and precise details on the texture resolutions, legal notices, uses, and even polygon counts. Scrolling further one can find a convenient review panel listing other's experience with the model.
Since 2011 TurboSquid has had a certification program. In it, models are checked against a checklist that assures the quality of models. Any 3D object that has met all the standards receives a Certified mark, which then displays in the marketplace. After sorting the listings on the website to only Certified 3D products, a shopper can make sure that the quality of the model he is buying is guaranteed.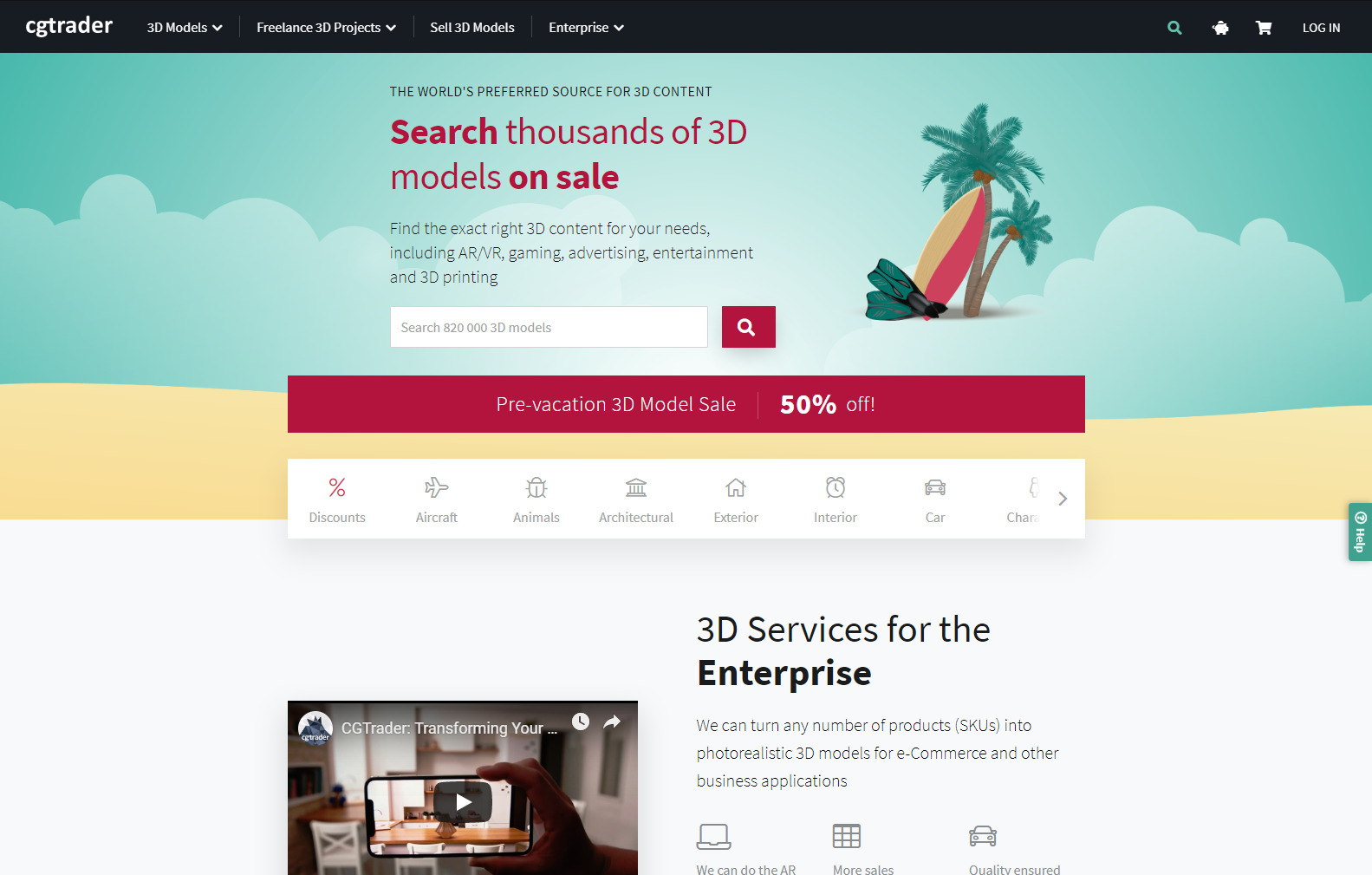 ---
Website link – www.cgtrader.com
CGTrader was launched in 2011 by Marius Kalytis and Dalia Lasaite. It is the largest of the 3D model selling websites with a collection of over 800 000 models which it reached in May 2019. 
With a detailed search, tagging and cataloging system on this website, it is easy to find a model that meets the necessary specifications. The listings can be sorted by file format, polygon count and different categories. There is a "Like" system for models for judging the quality of models. However, if there are no likes on a model, one can also look at the rating of the 3D artist that created it.
In May of 2019, the website introduced a service they call ARsenal. It includes practical solutions to integrate VR and AR such as website integration, model viewer, and so forth. It is meant to cut down on the upfront development costs of VR and AR so more stores can have access to the most innovative CG technologies.Customers can also post modeling job offers at their won rates to use in 3D product renderings, and choose the best professionals on the website. On top of that, there is the option of price bidding and negotiating with 3D artists themselves.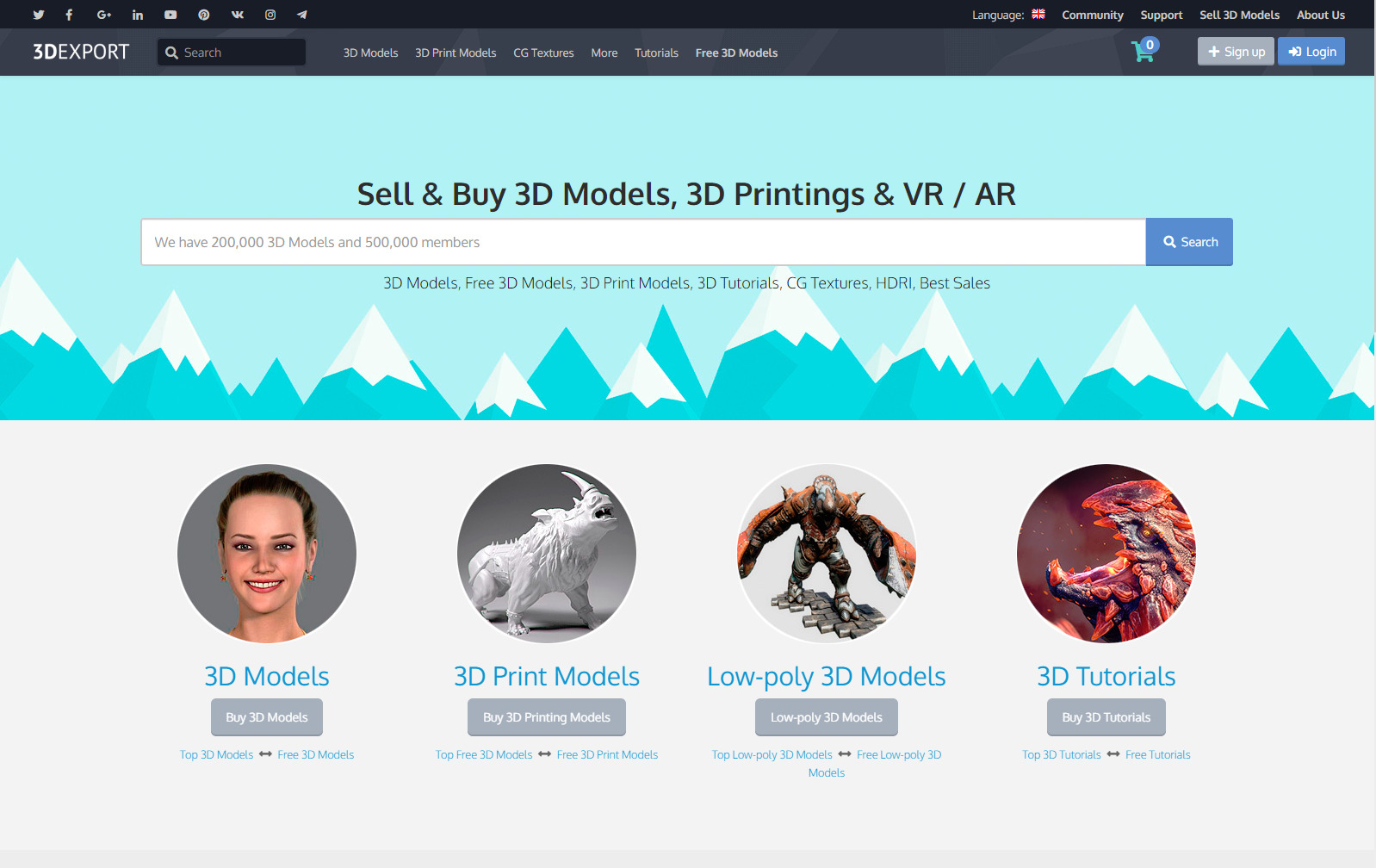 ---
Website link – www.3dexport.com
3DExport is a 3D model selling website that has been around since 2004. It consists of many categories of 3D models at very affordable prices. Moreover, the support system of the platform is first-class, which makes 3DExport truly user-friendly.
This website has a simple design and approach to selling models. Its detailed tag list covers everything from animals to cups and whatever else one would need. Inspecting a model provides prospects with a detailed list of polygon count, images, descriptions and the licenses. 
3DExport offers direct communication with 3D Artists. This feature facilitates ordering custom 3D models and connecting CG specialists with their clients. CRM system also includes a money back guarantee if a model does not meet requirements.
---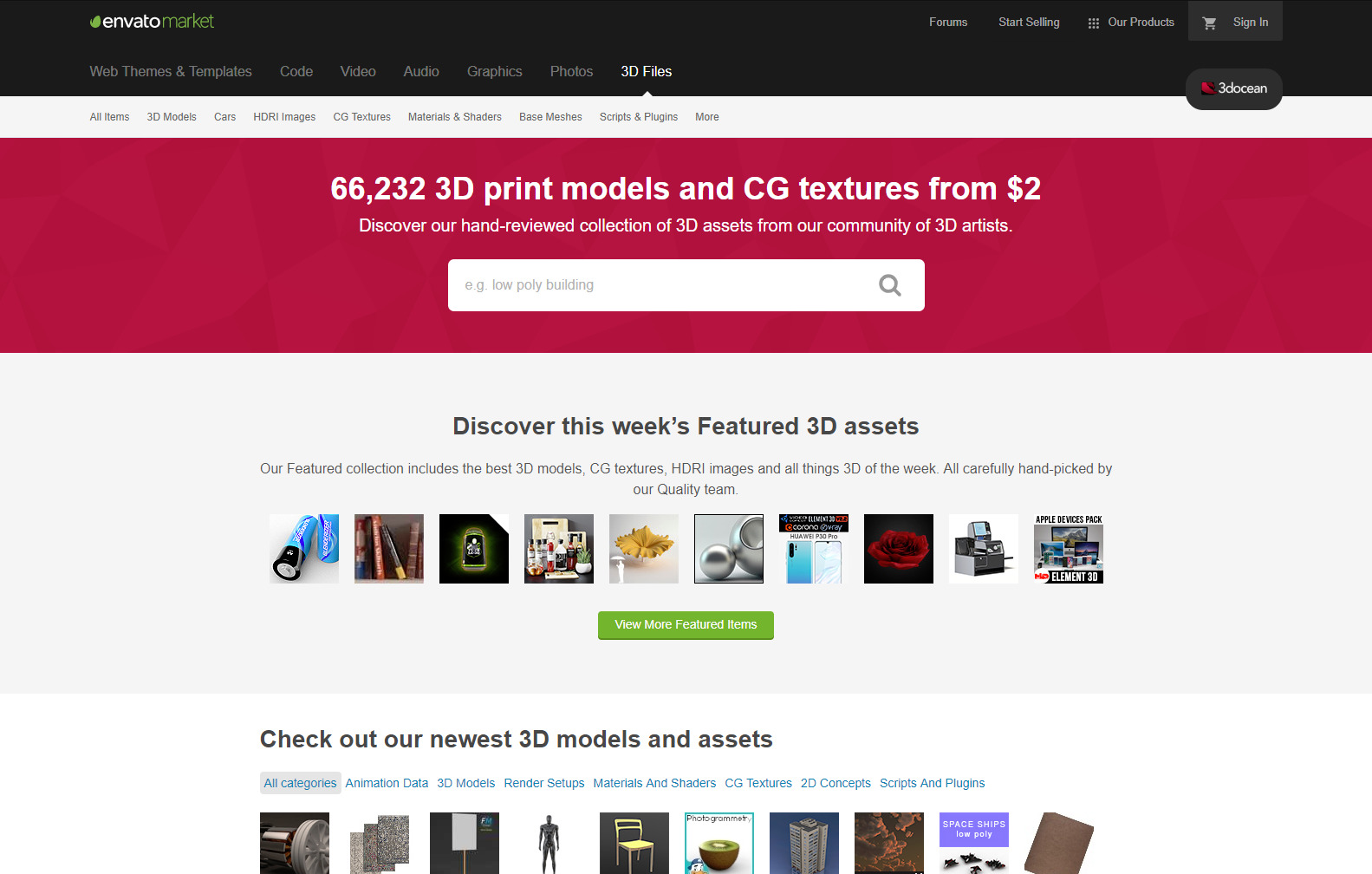 ---
Website link – www.3docean.net
3D Ocean is a 3D model selling website that is part of the Envato Marketplace. It sells affordable and quality models for immediate utilization. The marketplace consists of hand reviewed low poly and high poly 3D models.
There is a simple search function which can be sorted under different categories and very in-depth tags, like specific types of buildings or tables. The details on the models are all clearly listed and show the website level of the 3D artists, sales, comments, and rating of the model. 
The review process for the 3D models is very strict compared to other 3d model selling websites and 3D Ocean is proud to have only the best CG products. The artists who submit and get approved for the store are additionally required to provide a certain degree of support for their models if necessary. Particularly, if a customer needs some adjustments of a 3D model, a CG specialist has to provide them in the short term.
---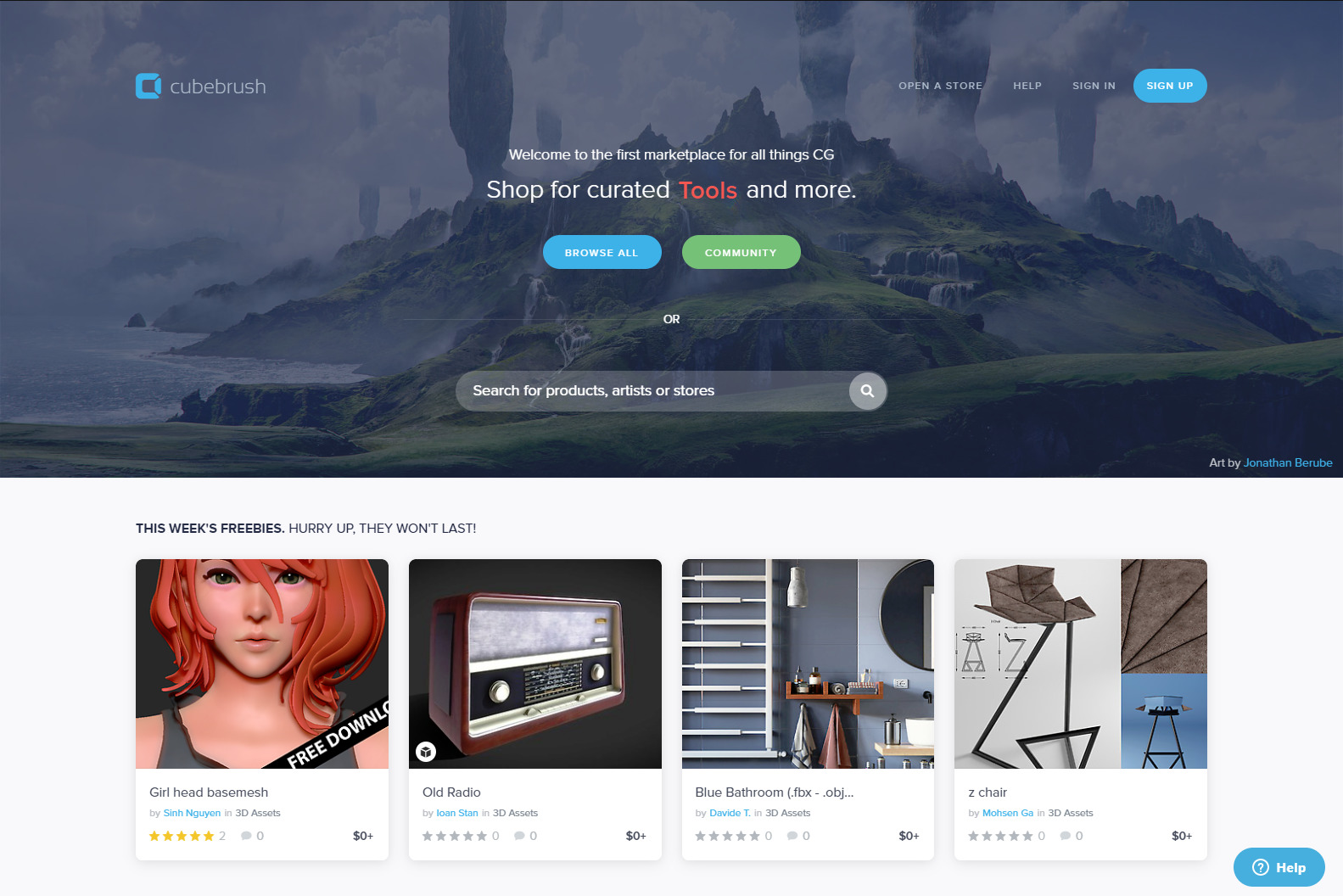 ---
Website link – www.cubebrush.co
Founded by Marc Brunet in 2014, Cobebrush is one of the 3D model selling websites that have developed a dedicated community. It is aimed more towards artists and students in the film, game, media, and entertainment industries. Luckily, the kinds of resources that can be found in the marketplace are of use to a much broader audience.
The website offers 3D models of all types, everyday items, cars, plats and everything else in both high poly and low poly options. The search function is simple and aside from price slider doesn't have a tag system to sort by. There is a wide range of prices for different models which makes it easy to find one that matches the budget. There also are star ratings and notes of use, file types, and comments when examining the 3D models. 
Marketers and Designers can find a vast practical variety of items, such as furniture, decor, buildings, and plants. However, the focus of the website is more toward conceptual 3D models. They go into artistic, medieval, fantasy or sci-fi categories.
---
Going through these websites, one should be able to find a model that meets the required purpose and budget. If users don't see the right one, there is always an option to order a custom 3D model. Hundreds of experienced 3D Artists will be happy to create 3D objects from scratch for your specific project. 
Of course, if you need a professional custom model for product advertisement, it's better to find a dedicated CG company instead. This way, you can guarantee top quality results and timely completion. Our 3D modeling service provides effective solutions for product images. Want to upgrade your advertising campaign? Contact 3D UFO and get detailed, high-quality 3D models in no time.
Let us know if you've got an interesting project and want to work together!