---
3D Modeling and Texturing: 7 Best Websites with Textures
3D modeling and texturing are two essential stages of creating photoreal 3D renderings. Initially, a 3D model is gray and has no bright colors or relief. To make such an object look realistic, CG artists need to apply a texture to it. The latter is a raster image that can provide a 3D model with colors, brightness, transparency, and reflections. After texturing, an object can look like it is made of any material — wood, plastic, metal, and so on. This way, 3D models become indistinguishable from real-life objects. Which is vital for product brands that use CGI for business. Now there are lots of them, and the number is constantly growing.
That is because 3D modeling technology allows manufacturers to get stunning advertising materials, perfect catalogs for web-stores, informative product presentations, and more. To get CG visuals for all those purposes, brands contact 3D modeling studios. Professional 3D artists of a CGI studio create 3D models of products and then use them to make still CG renderings, 360-degree views, or 3D animations — depending on what a manufacturer needs. However, to start work, a 3D modeling company needs that the client fills a brief first. 
Basically, it's a detailed explanation of how a future 3D model should look. The brief usually includes drawings, sketches, photos — everything that can give an idea about the appearance and functions of a product. It also often contains visual references for texturing. To find the right textures, the manufacturers check out numerous thematic sources on the web. But there are so many websites offering products for 3D modeling and texturing that one can easily get confused. 
To help manufacturers find references for their 3D projects easily, we prepared the top 7 websites with high-quality textures. Join us and find a website that suits your project best!
Link: https://www.poliigon.com/
Poliigon is a treasure trove in terms of 3D modeling and texturing. The website's offerings are divided into 4 categories: Textures, Models, HDR's, and Brushes. As for texturing, there's a wide range of options. For example, the Fabric section has 166 items to choose from, and Metal contains 222 different metallic surfaces of all kinds — from fine gold to graphite, chrome, and copper. All the assets here are of the highest quality, which is proven by the website's popularity. The platform is used by Fortune 500 companies and numerous studios that create movies and games. Poliigon's assets are not free but there's a flexible scheme that allows for adjusting the fee to the clients' needs. 
There are 4 types of subscriptions — for those who do 3D modeling as a hobby, for freelancers, production companies, and studios. The fee varies from $12 to $35 per month. To get the Studio package, Poliigon's visitors need to contact a platform's representatives for details. Also, there're credit packs that allow buying something from the site occasionally, without even getting a subscription.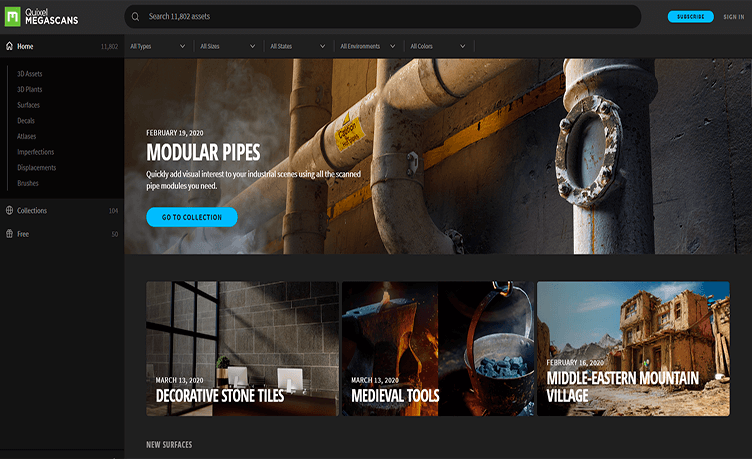 Link: https://quixel.com/megascans/home/
Another website with a great assortment for 3D modeling and texturing is Quixel. It offers decals, ready 3D models of objects and plants, as well as many texturing options. The latter is called Surfaces on the website. The mentioned three sections can be very helpful for manufacturers of clothing, gadgets, electronics, and appliances. On this site, they'll find numerous kinds of texturing options for fabric, leather, fur, metals, rubber, and plastics. Some of these assets are for free but getting most of them requires a paid subscription. There are three types of membership at Quixel: Personal, Indie, and Pro, which cost $19, $199, and $999 per month respectively. 
Link: https://www.cgtrader.com/
CGTrader is a bit different from other sources on this list. It's the world's largest marketplace selling 3D models. The story of the website dates back to 2011 when it was founded by Marius Kalytis, a Lithuanian CGI enthusiast. A 3D designer himself, he wanted to create the space for 3D modeling and texturing specialists where they would be able to buy and sell their works. Nowadays, the company has offices in Europe, the US, and Israel. Even though the enterprise was created as a 3D modeling marketplace, it can also benefit those who look for 3D texturing assets.
Along with 980k of 3D models, the website offers numerous textures that can be found in the corresponding section. They are not divided into categories but one can use the search bar and type in keywords to find the right options. There's a price and  "Add to cart" button next to each image, so a CGTrader's client can purchase the chosen item right away.
---
Link: https://3dtextures.me/
This platform is a true boon for jewelry manufacturers. The thing is that it's not that easy to find a 3D modeling and texturing site with a wide range of options for gemstones. This can complicate the completion of a brief for a 3D product modeling company . But this platform has a whole section devoted to such materials: there are 19 different gemstones' textures. And that's not the only advantage of the website. 
Among other categories, there is the Fabric section with 60 options. Here one can find laces, variations of padded cloth, tweed, and knitted textile, which are also pretty hard to find on other webpages. As for leather, it is represented by 9 variations, and the Metal section can boast an impressive number of 160 different options. On top of that, while three previous websites offer paid subscriptions only, this source gives everything for free. A manufacturer just has to choose suitable texturing options and download them.
---
Link: https://textures.one/
This source functions like a browser that analyses a database of numerous 3D modeling and texturing websites. All that's needed to find the right textures is typing a keyword in the search bar. For example, if one types "metal", the website will show 238 results. When a visitor finds an appropriate option and clicks on it, they see additional information about the asset, such as its type, resolution, method of creation, date of release, etc. Also, a user will be redirected to the original source where they can download the items.
The text on the website states that there are 2504 free assets available through this platform. The philosophy of the site is based on a simple motto: finding free texturing assets must be easy and fast!
---
Link: https://www.cgbookcase.com/
This website is run by a young 3D artist from Zurich — Dorian Zgraggen. His aim is to provide 3D artists with high-quality assets for 3D modeling and texturing. For grateful visitors, Dorian has a Patreon account where they can support the project if they want to. 
The platform has 16 categories of texturing options, including metal and fabric. The latter includes rare types of textiles, such as denim and knitted cloth.
---
Link: https://www.textures.com/
This source has a long and interesting history. Since its foundation in 2005, it has shared 137,095 images and the number keeps growing. The list of its clients includes famous companies such as Pixar, Marvel, Microsoft, and many more. As for the website's categories, there are 30 of them. Here one can find options for fabric, metal, plastic, and more. The Fabric section has an impressive collection of knitted textiles consisting of 50 items. There's also silk that can barely be found on other sources. Another unique feature of this platform is its assortment of lace trims — there are 212 options! 
The visitors might think that such a useful source definitely requires a subscription to get any of its assets. However, there is good news: one can download up to 15 images per day for free! Purchasing a credit pack or a subscription is needed only if the user needs more textures. 
These 7 3D modeling and texturing web pages allow for finding a needed surface for a future 3D product model easily and quickly. These platforms are helpful for brands that need 3D models of clothing, furniture, gadgets, appliances, and jewelry, and more. However, it still might happen that a manufacturer doesn't find any texturing option that precisely fits their merchandise. Does it mean there's no solution to this situation and the 3D model will look not as the designer imagined it? Of course not! In such a case, a professional CG visualization studio can create an absolutely unique custom texture for order in question. 
Want to get exclusive textures that showcase the look of your products with the highest level of precision? Contact UFO3D for 3D modeling and rendering services, and our 3D artists will make them for your project!
---
Let us know if you've got an interesting project and want to work together!